Location

Canberra

Salary

base + super

Job Type

Ref

BBBH34969_1600043971

Contact

Laura Longstaff

Contact email

Contact phone

Posted

9 months ago
Location

Canberra

Salary

base + super

Job Type

Ref

BBBH34969_1600043971

Contact

Laura Longstaff

Contact email

Contact phone

Posted

9 months ago
​
​

The Organisation
Medicines Australia leads the research-based medicines industry of Australia. Their members discover, develop and manufacture prescription medicine products, biotherapeutic products and vaccines that bring health, social and economic benefits to Australia. Their members are committed to the highest ethical standards as they invest in Australian medical research and take local discoveries and developments to the world
​
About the opportunity
​
Medicines Australia is embarking on a significant period of transformation. The Head of Strategic Policy Implementation is one of three pivotal roles identified as part of the leadership team to drive change and meet future goals.
​
The Head of Strategic Policy Implementation is responsible for collaborating, facilitating and harnessing the collective benefit of the multiple stakeholders of the pharmaceutical medicines industry, to influence development of cogent government policy.
​
This position represents and facilitates consensus among Members, building the reputation of the industry and thereby increasing Member and stakeholder satisfaction. This role will also support the expansion of Medicines Australia's membership base through the implementation of a refreshed Member Value Proposition
​
Duties
​
Lead a small team of policy, data, research and stakeholder specialists to develop and deliver the policy and research strategy and operational plan for Medicines Australia

Lead and define research and analysis of planned government policies

Deliver submissions and government inquiry responses on behalf of Medicines Australia and its members

Lead Medicines Australia's representation on the PBAC Sub Committees

Develop and execute, together with the Head of Stakeholder Communications and the Head of Government Relations, an aligned and strategic multi-stakeholder engagement plan

Lead a collaborative Member focused and external stakeholder culture in the Policy Team

Represent Medicines Australia at relevant high level policy development forums, high level government meetings and working groups

Build relationships with members and stakeholders
​
Skills and Experience
​
Tertiary qualifications or equivalent in relevant discipline (e.g. but not limited to economics/law/health economics/sciences/life sciences/public policy), demonstrating advanced level of education. Post graduate qualifications an advantage

Minimum 5 years' experience in a leadership role within the pharmaceutical or similar industry, or a peak industry body

Advanced understanding of the machinery of government processes including the budget cycle and policy development
​
This is a truly unique opportunity to shape the future of Medicines Australia.
​
How to Apply
Laura Longstaff of Healthcare Professionals Group is partnering with Medicines Australia, and is very happy to answer any questions pre application. Please apply directly or call 02 8877 8758
​
( SK915141A )
​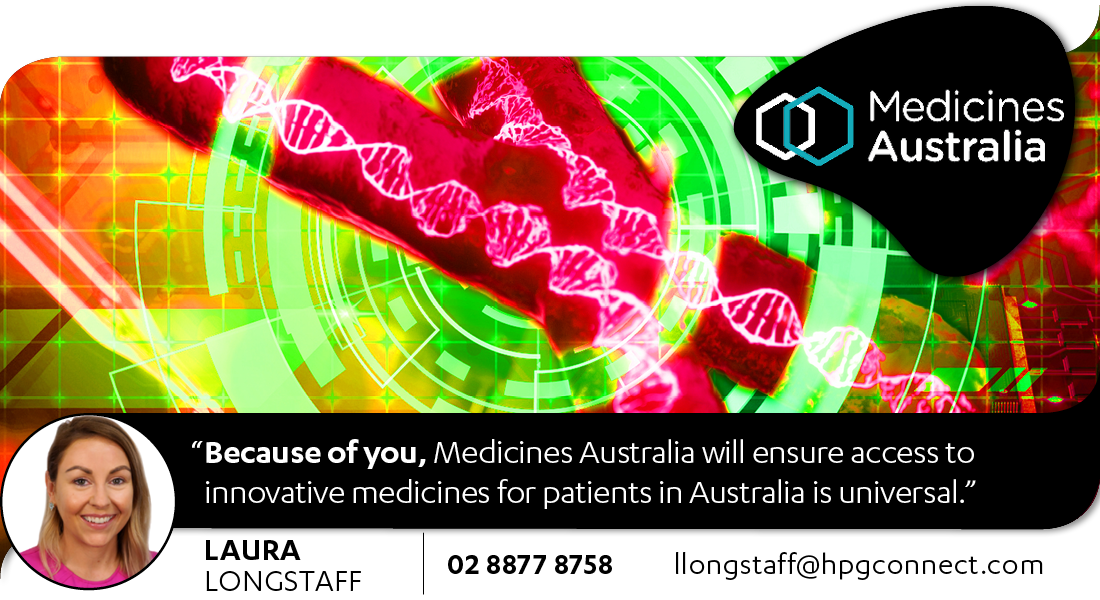 about 1 month ago
Medical Affairs
Sydney
+ Excellent Benefits/Package
Medical Science Liaison Full Time - Permanent opportunity for an experienced MSLTA areas: Haematology, Cell Therapies, OncologyExcellent remuneration & package Benefits Improve the standard of clinical care for patients living with cancer, with a goal of providing rapid, long-term durable resp...