Location

Canberra

Salary

base + super

Job Type

Ref

BBBH34971_1600041640

Contact

Laura Longstaff

Contact email

Contact phone

Posted

9 months ago
Location

Canberra

Salary

base + super

Job Type

Ref

BBBH34971_1600041640

Contact

Laura Longstaff

Contact email

Contact phone

Posted

9 months ago
​

The Organisation
Medicines Australia leads the research-based medicines industry of Australia. Their members discover, develop and manufacture prescription medicine products, biotherapeutic products and vaccines that bring health, social and economic benefits to Australia. Their members are committed to the highest ethical standards as they invest in Australian medical research and take local discoveries and developments to the world
​
About the opportunity
​
Medicines Australia is embarking on a significant period of transformation. The Head of Operations is one of three pivotal roles identified as part of the leadership team to drive change and meet future goals.
​
This is a unique opportunity to shape the future of Medicines Australia! This position is responsible for overseeing the internal operations of the Medicines Australia organisation and enabling a high performing, efficient and capable organisation to deliver on the Strategic Objectives and Member Value Proposition going forward.
​
Duties
​
Work with the business to drive the delivery of the organisational transformation

Provide expertise and support to the CEO with the implementation of the organisational structure, financial management frameworks and budgeting processes

Monitor organisational performance and execute strategy

Coordinate and manage the internal and outsourced functions of IT, Facilities, Finance and HR (including Vendor arrangements/suppliers)

Provide high level secretariat and governance support for the CEO to provide advice to the Board and the Finance, Risk and Audit Committee as required

Map all critical capabilities and processes and ensure all are documented, communicated and easily accessible to all staff

Review, where required develop, and implement project plans related to the Medicines Australia Transformation Project including making an assessment of all internally facing functions and provide advice on the organisational structure for future fit, modernisation, and capability building
​
Skills and Experience
​
Tertiary qualifications or equivalent experience in relevant discipline to meet position expectations

Minimum 5 years' experience in an operational leadership role

Strong project management expertise

Understanding of the overall Australian Healthcare or pharmaceuticals industry an advantage

Proven track record in building/managing high performing teams

A proven ability to manage and deliver outcomes in a complex and rapidly changing environment

Demonstrated experience as a leader of change and shaping the future
​
​
This is a truly unique opportunity to shape the future of Medicines Australia.
​
How to Apply
Laura Longstaff of Healthcare Professionals Group is partnering with Medicines Australia, and is very happy to answer any questions pre application. Please apply directly or call 02 8877 8758
​
( SK915141A )
​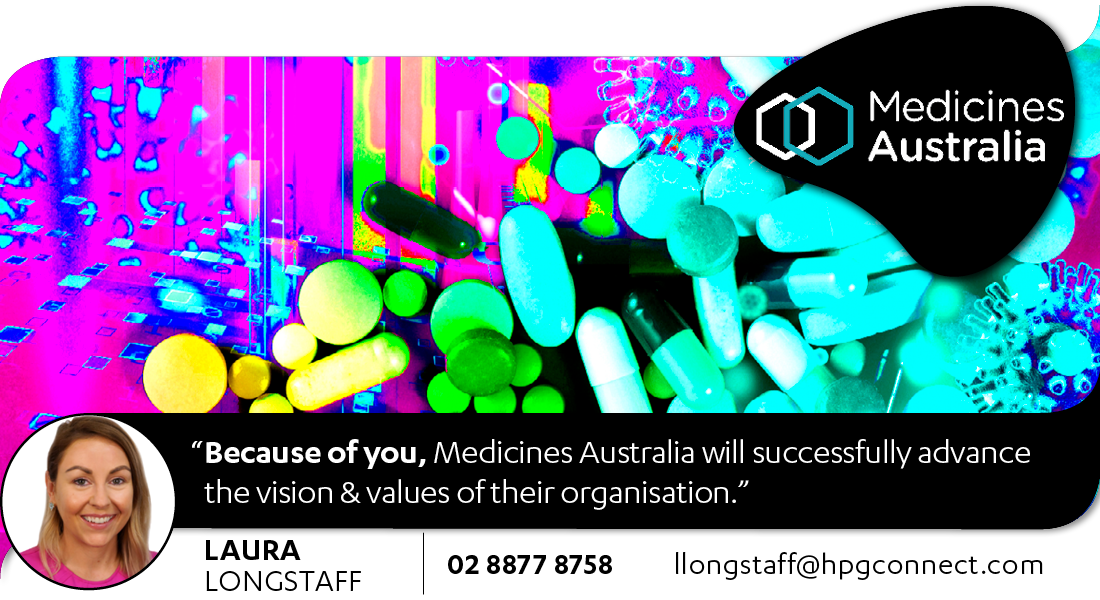 about 1 month ago
Medical Affairs
Sydney
+ Excellent Benefits/Package
Medical Science Liaison Full Time - Permanent opportunity for an experienced MSLTA areas: Haematology, Cell Therapies, OncologyExcellent remuneration & package Benefits Improve the standard of clinical care for patients living with cancer, with a goal of providing rapid, long-term durable resp...