Location

Adelaide

Salary

AU$82000 - AU$85000 per annum + superannuation

Job Type

Ref

BBBH36244_1617065594

Contact

Michelle Vermaak

Contact email

Contact phone

Posted

19 days ago
Location

Adelaide

Salary

AU$82000 - AU$85000 per annum + superannuation

Job Type

Ref

BBBH36244_1617065594

Contact

Michelle Vermaak

Contact email

Contact phone

Posted

19 days ago
Benefits
Great opportunity for career development.
International travel as part of the training programme.
Be a part of a customer-centric and respectful work environment.
​
About the company
A leader in their field of expertise, driven by high-tech innovation and solutions for the Life Sciences, Aerospace and Geo-sciences industry.
​
About the opportunity
In this role, you will be responsible for providing remote and on-site support for instrumentation, including preventive maintenance, urgent breakdowns and training users.
​
Duties
Provide remote and on-site technical support.

Scheduling and conducting preventative maintenance across all states on the east of Australia.

Attend to urgent breakdowns and repairs.

Installation planing and site inspections.

Installation of equipment and user training.

Build strong business relationships and maintain a high level of customer satisfaction.

Partake in on-going training and development.

Drive continuous improvement within the field service department.

50% travel across VIC, ACT, NSW and QLD.
​
Skills and Experience
Tertiary qualification in Electronics is highly desirable.

Training in military electronics is highly beneficial.

Experience working with medical or analytical instrumentation is advantageous.

Experience working with complex, delicate components is required.

Strong electronic skills is required.

Strong trouble-shooting and problem solving skills.

Excellent communication and customer service skills.

Positive, energetic and driven.

High proficiency in computers and technical documentation.
​
Culture
Passionate, innovative and customer-centric culture. Committed to development and training their employees.
​
How to Apply
Click apply or contact Michelle Vermaak on 02 8877 8760 for a confidential discussion.
( SK920709A )
​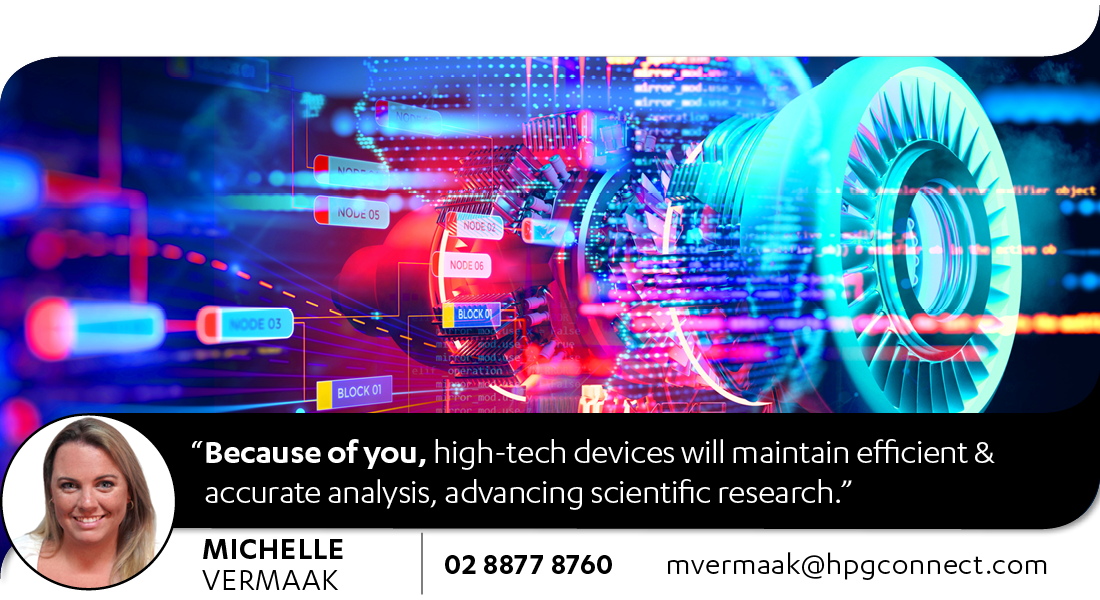 18 days ago
Engineering
North Shore
AU$70000 - AU$75000 per annum + superannuation
Benefits Opportunity for growth and development within the role.Work in an innovative and adaptable environment.Supportive team with good leadership. About the company A global medical devices company specialising in surgical innovation. Driven by providing surgical solutions that are tailo...