Location

New South Wales

Salary

commission, leave loading, car allowance, health insurance

Job Type

Ref

BBBH35496_1604474568

Contact

Angela Barclay

Contact email

Contact phone

Posted

26 days ago
Location

New South Wales

Salary

commission, leave loading, car allowance, health insurance

Job Type

Ref

BBBH35496_1604474568

Contact

Angela Barclay

Contact email

Contact phone

Posted

26 days ago
Benefits
Open plan, high energy offices
Collaborative organisation where employee opinions are recognised and actioned
Flexible working arrangements across home and office
Established leadership team with longevity within the organisation
Attractive package including car allowance and other benefits
About the company
An International organisation with around 60 staff in Australia, our client, who is an equal opportunity employer, boasts brands that are some of the best known across the globe. Their reach is further developed through their partnerships with distributors. With a significant household product range that is ever expanding they demonstrate their focus on continuing to bring new and innovative products to consumers through their New Products Innovation Team
About the opportunity
This is an exciting opportunity for a Regulatory Affairs Specialist to be the responsible regulatory person for the organisations many product portfolios. The role will report to the Director of Operations, working alongside a QA/RA colleague, and will hold responsibility for developing and implementing regulatory strategy for assigned portfolio, maintaining and developing products, regulatory planning and preparation for new product applications, liaising with health authorities and agencies, ensure compliance of regulatory requirements throughout the product life cycles and ensure best practice in developing local operating instructions.
Duties
Complete responsibility will be held for all regulatory affairs activities to provide leadership and successful execution of regulatory strategies and business plans. This will be achieved through cross functional activities to ensure growth and maintenance of valued and respected brands

Scope all regulatory activities encompassing maintenance and development which will involve liaising with relevant Health Authorities and governing bodies.

Consider wider business objectives and priorities to ensure common organisational goals

Ensure that all registration renewals are achieved within timelines to ensure continuity of sales to the wider organisation

Keep abreast, and up to date, with regards to regulations relevant to the product portfolios

Continually develop networks to ensure that new products can be delivered to the consumer within the appropriate regulatory frameworw
Skills and Experience
Minimum 5 years' experience in regulatory affairs with specific focus on consumer and OTC products

Strong knowledge and demonstrated hands on, up to date experience, of TGA registrations

Multi tasker, who can work cross functionally across varying projects and tight deadlines

Ability to work across many product portfolios in an organized and professional manner

Strong communication and presentation skills
Culture
This organisation boasts a culture of collaboration where they divide and conquer. With high energy and a focus on innovation and achieving results the culture is demonstrative of the tenure of the staff members. Employee opinions are highly regarded where a flexible working approaching boasts a culture of trust a autonomy across the organisation
How to Apply
Click apply or contact Angela Barclay, Associate Director on +61 2 8877 8743 for a confidential discussion.
( SK915184A )
​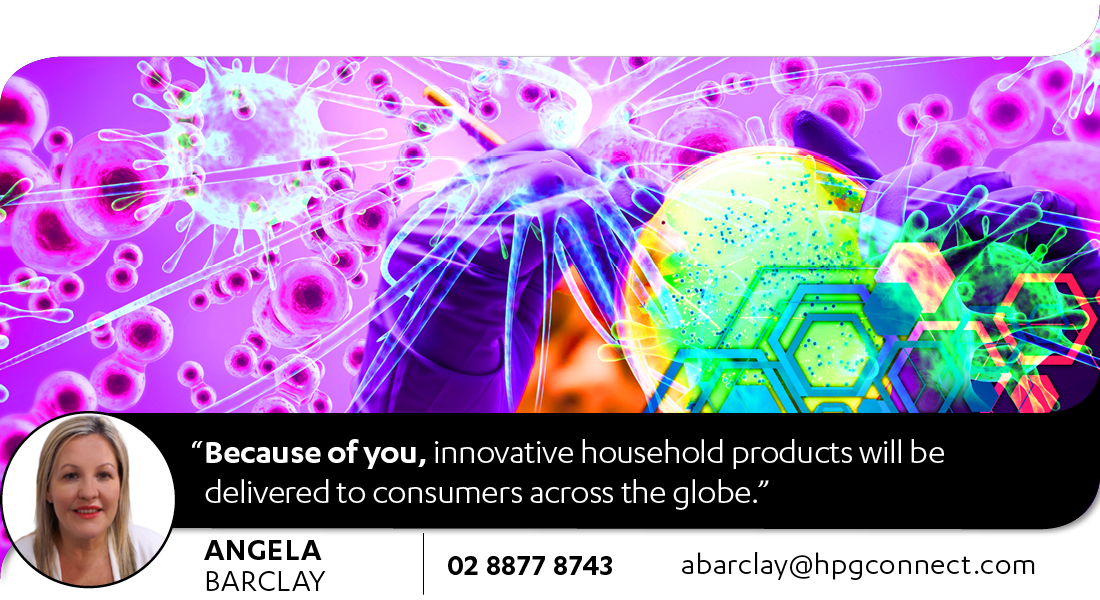 21 days ago
Regulatory Affairs
About the companyThis global CRO are committed to developing groundbreaking devices and new pharmaceutical products. About the opportunityIn this role, you will responsible for ensuring the timely submission of regulatory documents related to clinical trial activity Duties Perform...
about 6 hours ago
Regulatory Affairs
New South Wales
Negotiable
BenefitsWork in a friendly and supportive environmentA global organisationFlexible working arrangements About the companyA leading medical device company with a global reach. About the opportunityOn a 12-month contract you will re...