Location

Melbourne

Salary

Negotiable

Job Type

Ref

BBBH35751_1609905523

Contact

Mardi Steven

Posted

21 days ago
Location

Melbourne

Salary

Negotiable

Job Type

Ref

BBBH35751_1609905523

Contact

Mardi Steven

Posted

21 days ago
Occupational Therapists
Mobile OT's required across Melbourne

5 positions available for contract / temp work

Open to FT/PT hours - work 1 day per week or 5 days - it's up to you!

Weekdays - after hours - weekends - make some extra dollars!!!!!

Between $80-$100 per hour plus super - depending on experience

Immediate start

The Opportunity:

We are looking for Occupational Therapists with personality plus! We are on the hunt for OT's that would love the opportunity to develop kids between 2-18 years, that have autism and developmental delays. A small portion of clientele will be adults.

This well developed and well respected business is run off its feet with referrals and needs your help to convert them and assist our clients in need.
You choose which referral you want to work on.

There are clients in Melbourne and surrounds. To name a few locations that require your service - Geelong, St Kilda, Hawthorn, Chadstone, Preston, Brunswick, Footscray, Caroline Springs, Werribee... but not limited to these areas.

You will have a team around you that completes all the admin, so this will allow you to get in the car and spend quality time doing what you do best, then come back and complete your case notes and prepare for the next day of visits

Essential Criteria:
AHPRA registration

University degree

6 months experience as an OT, minimum

Police Check

Working with Children's Check

Drivers License

Own reliable vehicle

Upbeat / positive personality

Can-do attitude

Good time management skills
If you have experience working only with adults, that is no problem. Here is your chance to work with children as an OT.

This role is suited to all - whether you want to do this role full-time, if you are a return to work parent looking to get back into the workforce, perhaps you just want to work 1-2 days per week, or even if you have your own business and want to supplement your income, we will consider everyone that meets the essential criteria.

There are so many benefits:
Great pay rate

$300 towards a PD course

You can claim back the kilometres

Mentoring and coaching

You choose your days, times, referrals - total flexibility!

Assistance with admin, allowing you to get on the road

2 week pay cycle including your kilometres

An established business with over 100 clients

A manager that is flexible, with a great work ethic and truly believes in supporting the team around him
Are you feeling inspired? If so, please send me your CV today.
We are recruiting quickly.

Please address your cover letter to Mardi Steven
Please send your CV in WORD format (not PDF please)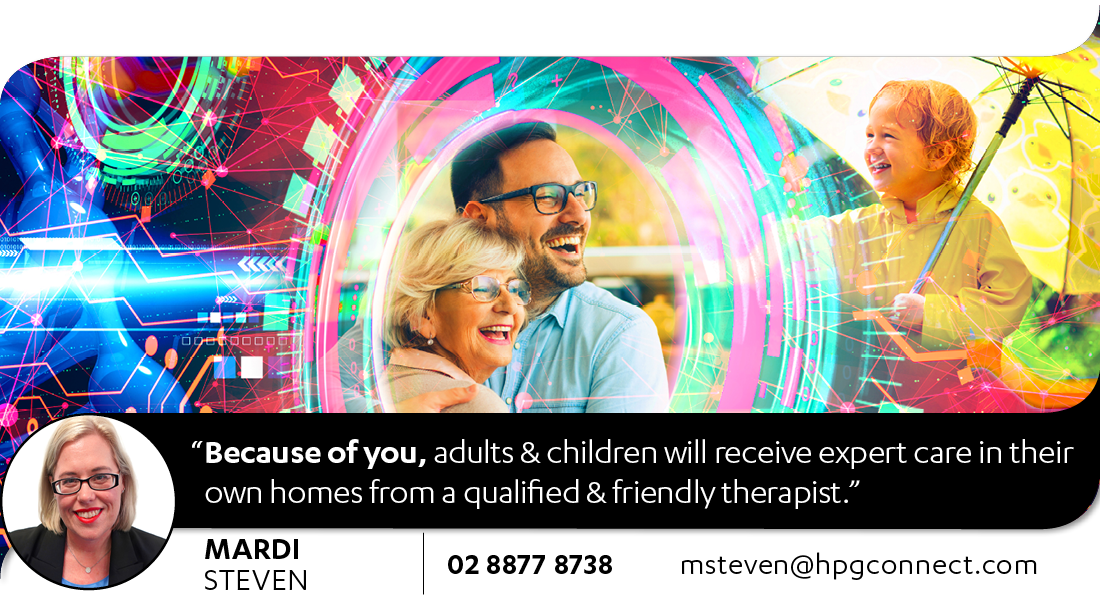 13 days ago
Allied Health
Newcastle
plus super, plus car/laptop/phone
Occupational Therapist / Sales Agent Based in Newcastle, NSWImmediate StartAttractive salary plus super + van + mobile phone + laptopGenerous Incentive Program availablePermanent, full-time opportunityThis well established an...
21 days ago
Allied Health
Southwestern Sydney, New South Wales
Negotiable
Speech TherapistMobile Speech Therapist required in South-West Sydney(2 roles avail in Melbourne if you wish to relocate)Contract / temp work4 days work available weekly - 2/3 days mobile and 1 in ClinicBetween $80-$100 per hour plus super - depending o...
21 days ago
Allied Health
Speech TherapistsMobile Speech Therapists required in Melbourne x2(1 role avail in Sydney if you wish to relocate)Contract / temp workWork as many or as little hours per week as you likeBetween $80-$100 per hour plus super - depending on experienceImmedi...