​

Welcome to Healthcare Professionals Group (HPG)
​
"WE ARE AUSTRALIA'S LARGEST, MOST COMPREHENSIVE HEALTHCARE RECRUITMENT AGENCY AND WE RECRUIT ACROSS ALL AREAS - Pharmaceuticals, Biotech, and Medical Devices through to Clinical Care roles in Aged Care, Allied Health, General Practice, Medical Imaging, and Hospitals."
For all of us at HPG it is very rewarding working in healthcare. When we place candidates into specialised roles, we know that we are making a significant contribution to the lives of many people.
When working with HPG you will get to meet our wonderful colleagues. They are an outstanding group, passionate, dedicated, and focused on quality. Everyone truly cares about healthcare and cares about doing an excellent job.

Our culture is – Supportive; Collaborative; Understanding; Caring.
Flexibility is now the new norm. Working anywhere - from the office, from home, in between the two. Whatever suits people, at any given time - delivers results for everyone. And we use best-in-class technologies to support this.
A big focus at HPG is on Learning and Development. To be top of our field we understand the importance of always being up to date, to be acquiring new knowledge and then to be using this knowledge to do our jobs better.
At HPG we've got great people. People who are excited to be contributing.​
We are absolutely delighted to share that in 2022, we have accomplished a remarkable milestone - our 25th anniversary! As we reflect on our journey, we are immensely proud of the significant progress we've made in placing talented candidates into vital roles. With renewed vigour and unwavering commitment, we are excited to keep up this momentum and pave the way for even more phenomenal years ahead!
We look forward to you joining us.​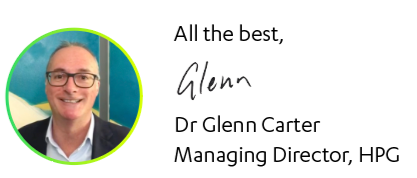 ​
​
​
​
​
​Join us and make a difference.
We're identifying Consultants to work in different areas of our business. We also support your career and skills development as you develop expertise in new areas.
We therefore welcome applications from Consultants with specific industry sector knowledge or those from generalist backgrounds looking to specialise in a highly rewarding sector.
​​"Be responsible for identifying critical healthcare workers for life-saving roles!"​​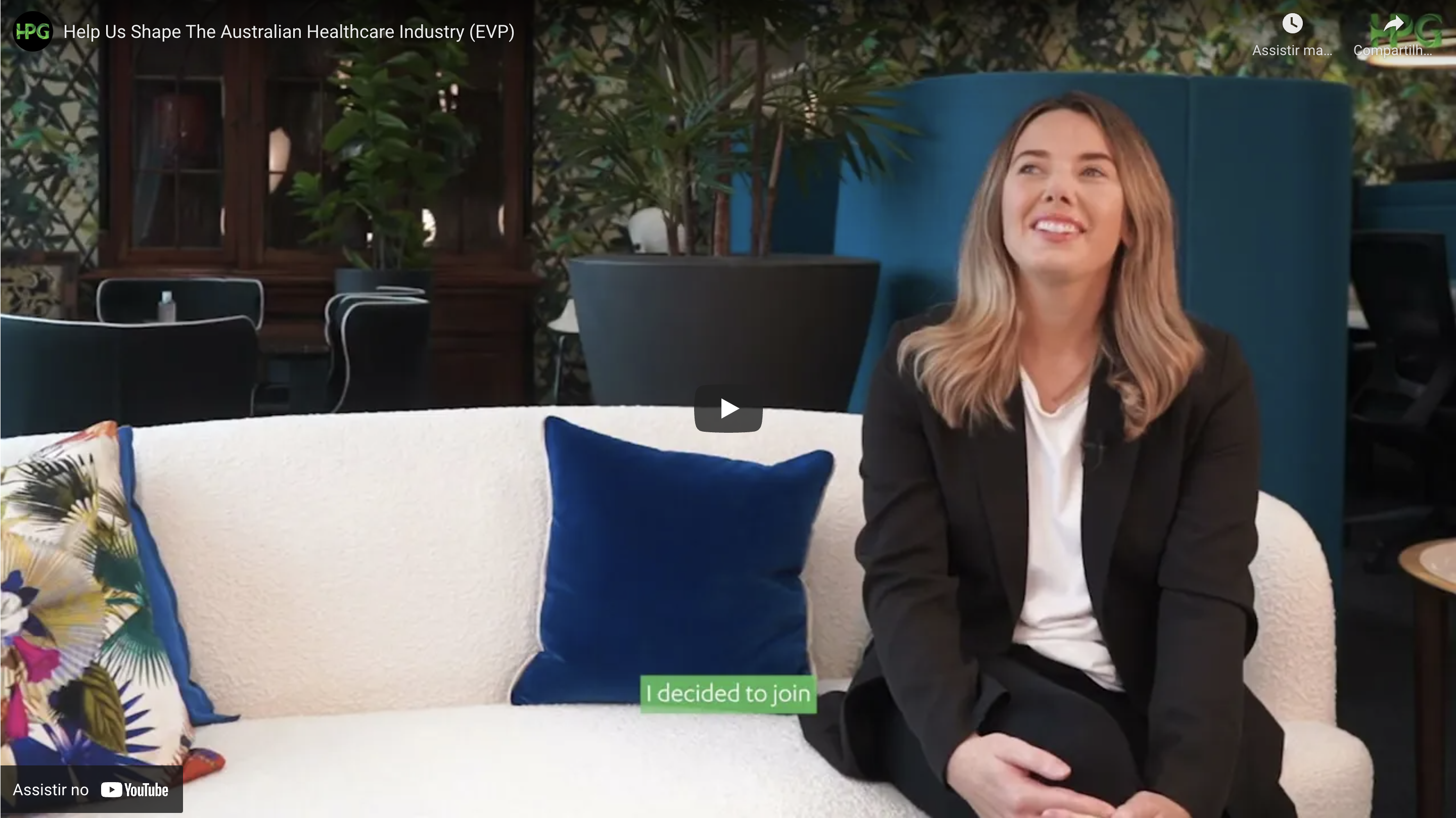 ​We all work towards the common goal of 'Enhancing Lives'.
In delivering our services our focus is on quality, professionalism and excellence. We value collaboration and respect for others and we embrace different working styles and different cultures. We embrace flexibility and we embrace diversity. We understand that a multi-dimensional approach improves outcomes, for our employers, our candidates, our clients and ultimately for patients.
We welcome applications from Consultants with specific industry sector knowledge or those from generalist backgrounds looking to specialise in a highly rewarding sector.
Please contact us via enquiries@hpgconnect.com for more information.
There are many benefits of joining HPG…

Everyday you will be learning something new - from our training, and from your colleagues, candidates, and clients.
We talk with so many people and learn about advances in healthcare and the delivery of healthcare, new treatments, new clinical trial results, new ways of working, new technologies. And from our conversations we provide insight and shape the working practices and cultures of our clients.
It is rewarding knowing that, by working across all areas of healthcare, we are enhancing the lives of patients, families, and communities across Australia by providing specialised staff who undertake important work.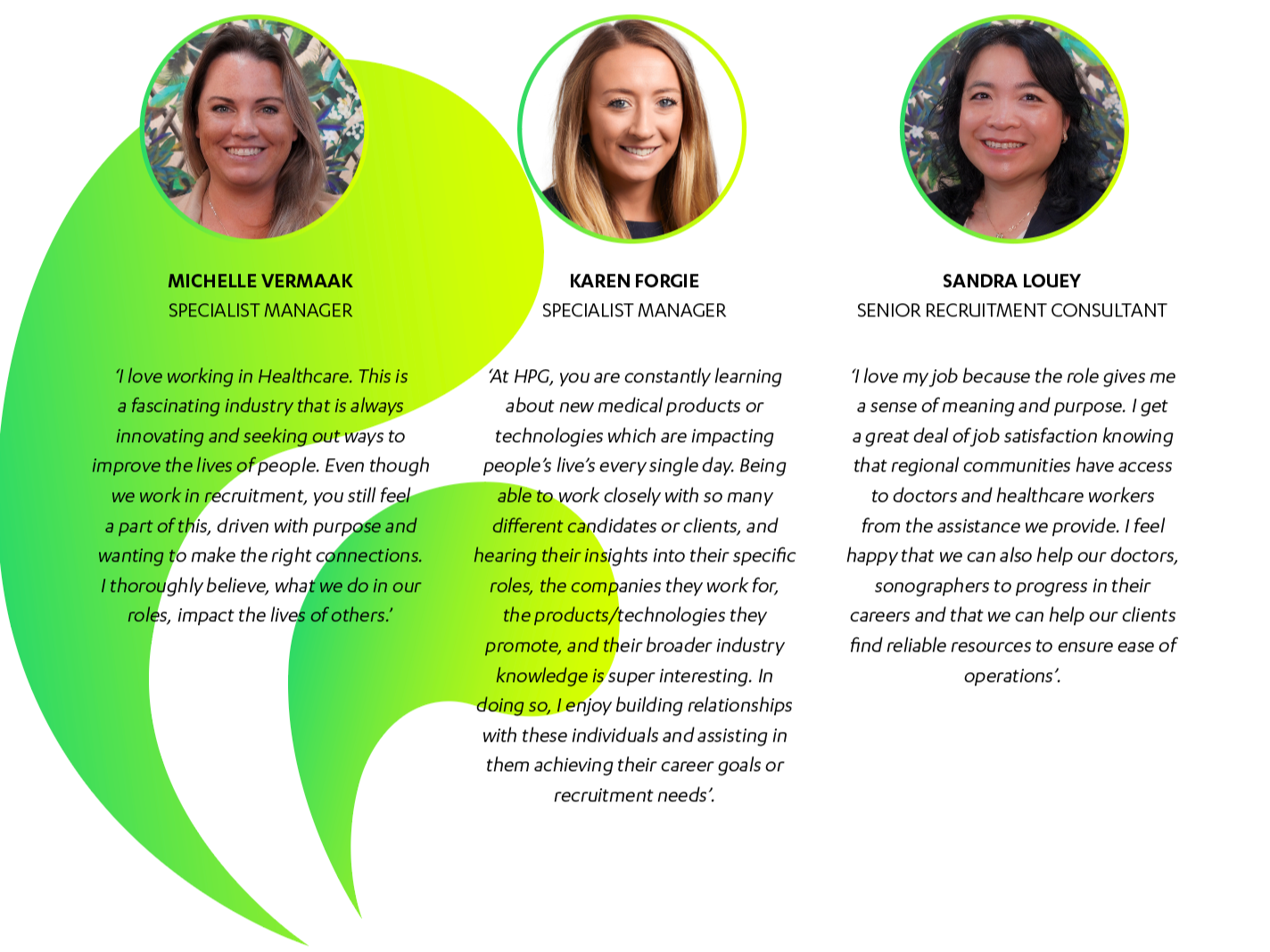 ​

​

You will be joining an established team of 40+ staff, who have had long and successful careers with HPG.
This year we are celebrating 25 years in business
and from our longevity you will be accessing long-standing client and candidate relationships.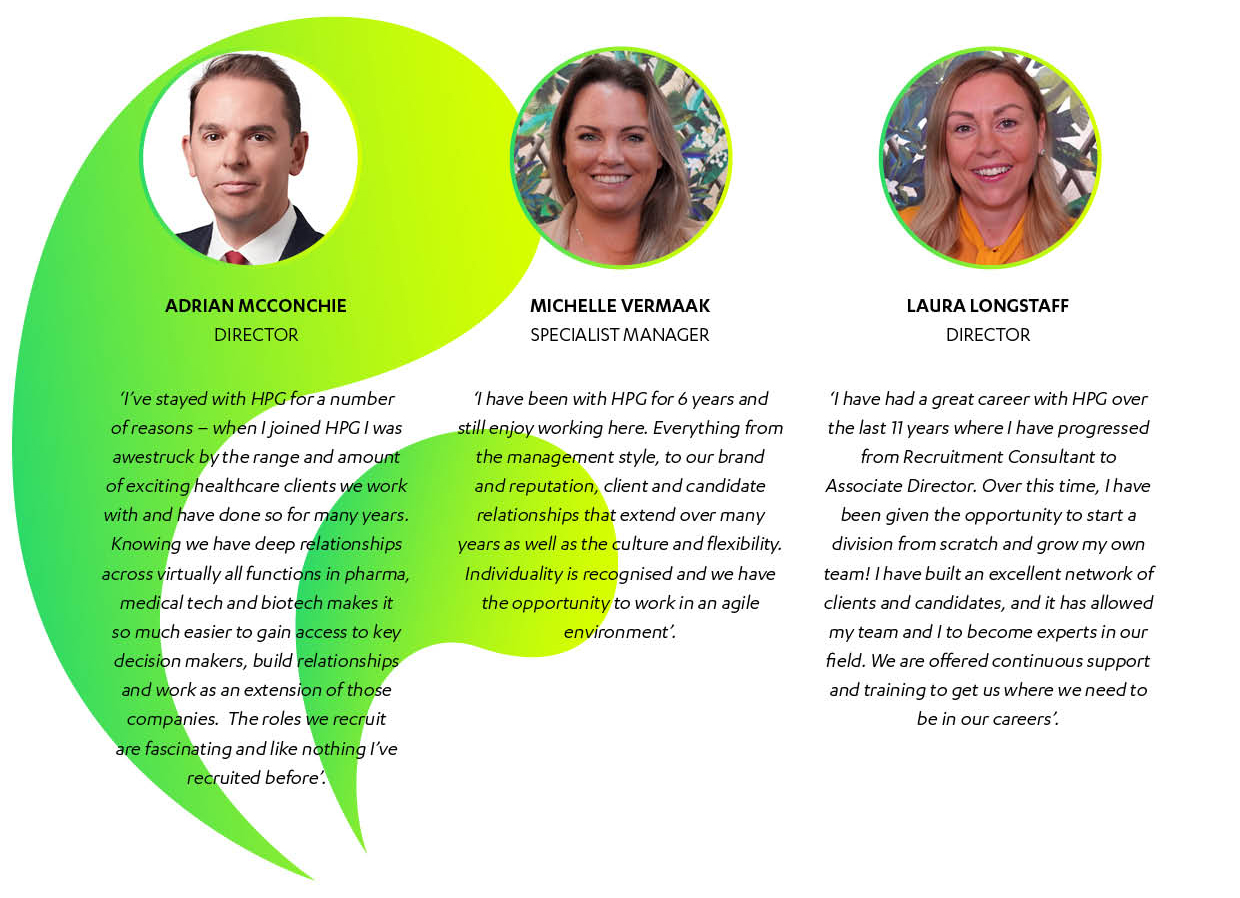 Our culture is part of our success, it defines the way we behave and do things at HPG. We have an inclusive and diverse culture where everyone feels valued for who they are. We treat everyone with dignity and respect, and we celebrate our differences.
Our values (Knowledge, Connectivity and Trust) play an important part in our culture, and they provide us with guidance when making decisions.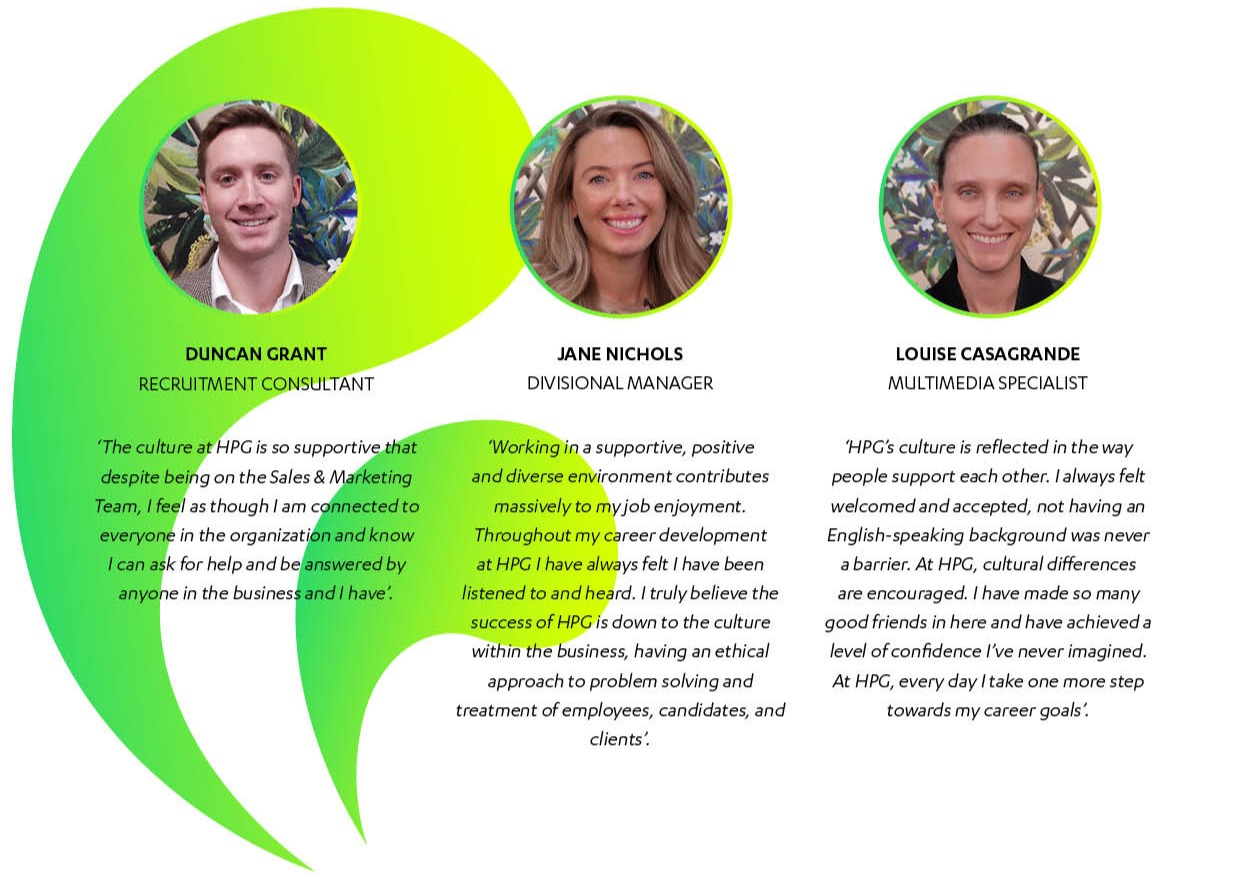 We provide access to a range of in-house and external training courses to support your professional and personal development.
Our Learning and Development (L&D) specialist will work with you to develop a tailored programme and you'll be participating in lots of fun and interactive sessions.
We utilise Go1 which gives you access to more than 80,000 online courses in topics ranging from negotiation, account management, building relationships, sales, through to non-work-related courses such as health & well-being, photography, design, nutrition and more.
We also utilise material prepared by recruitment industry leaders (Greg Savage, Mike Walmsley, HumeScope and the RCSA) to deliver informative and inspiring sessions.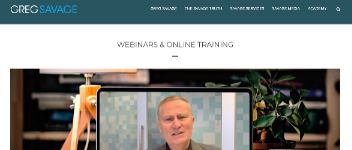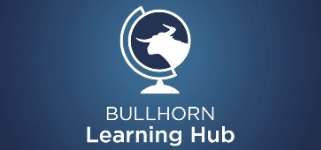 We will also be working closely with you to understand your career goals and to establish a tailored development plan. You will have access to a range of opportunities to enhance your skill set and we will be supporting you with training and mentoring from experienced managers. You will be developing expertise across a wide range areas to enhance your career.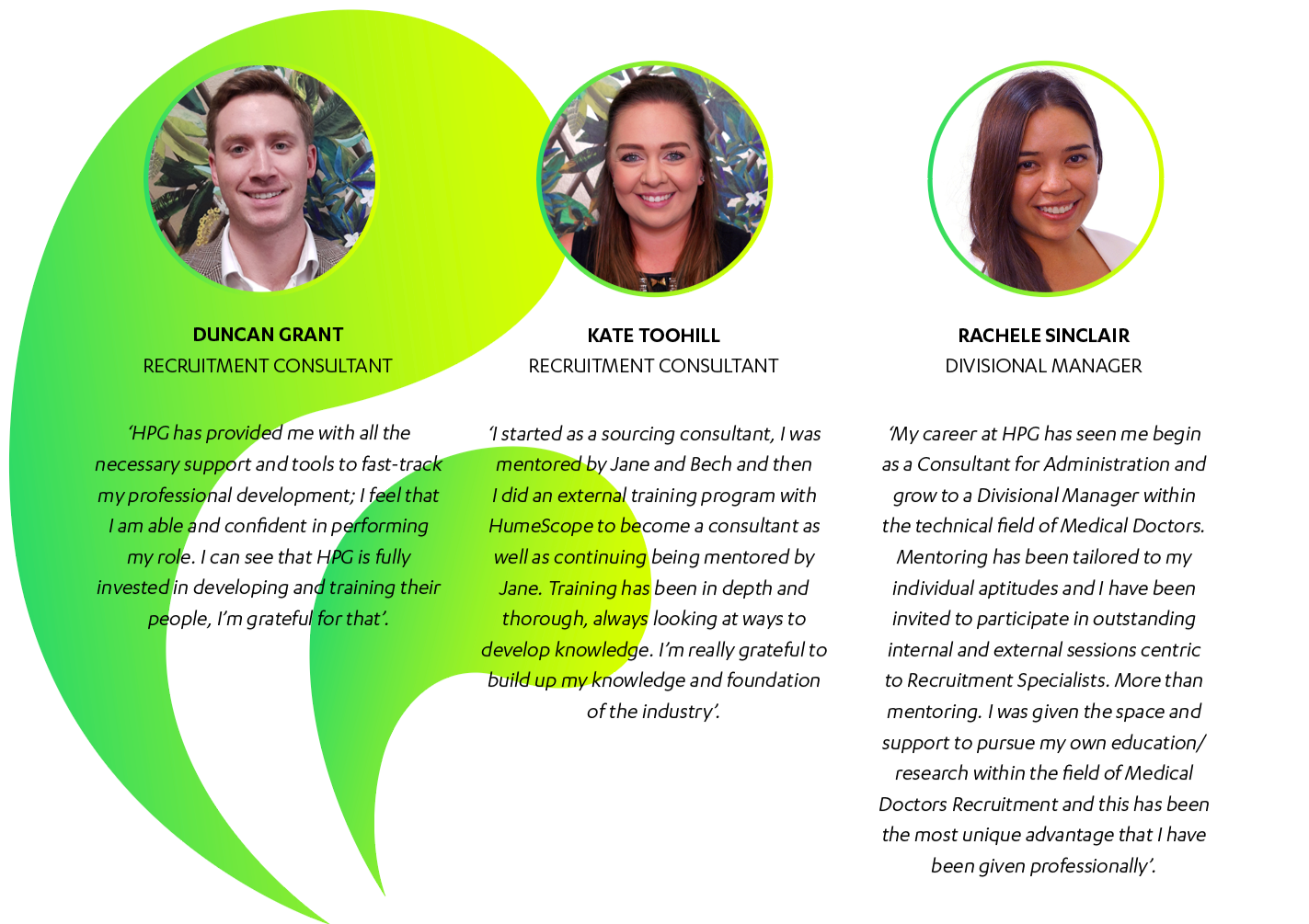 We have always been leaders in the technology we use because it produces great results.
We utilise a best-in-class platform incorporating Bullhorn, Bullhorn Automations, Cube 19, Idibu, Astute, LinkedIn, LinkedIn Recruiter, Seek Talent Search, CloudCall, and provide comprehensive training so that you have efficient workflows to get the results from your efforts.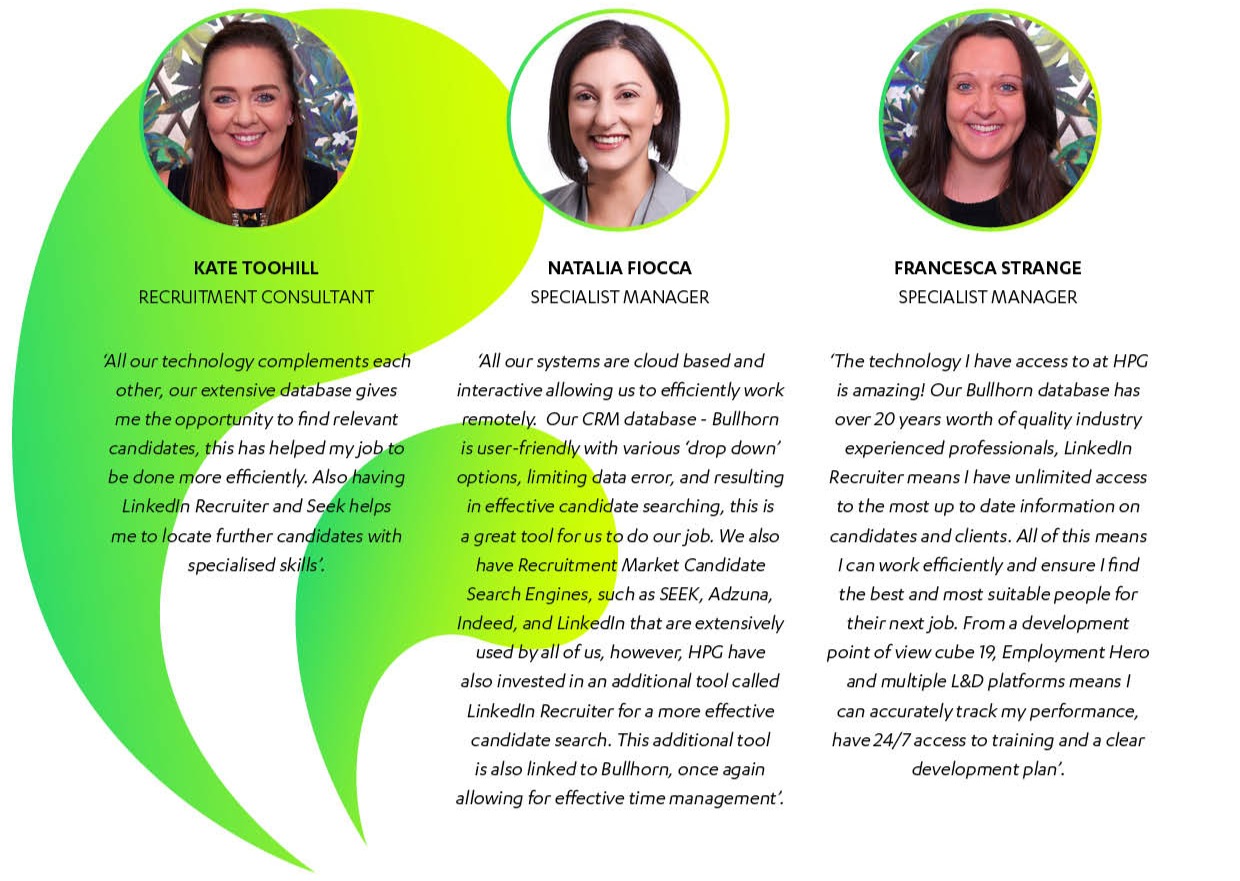 Our in-house marketing team are experts in graphic design, animation, and videography;
and will work with you to deliver outstanding candidate and client attraction campaigns. They are expert in marketing automations that will help you connect with your target markets effortlessly. And when it comes to preparing client proposals and presentations, they will deliver informative and eye-catching material that will position you as a leader in your field.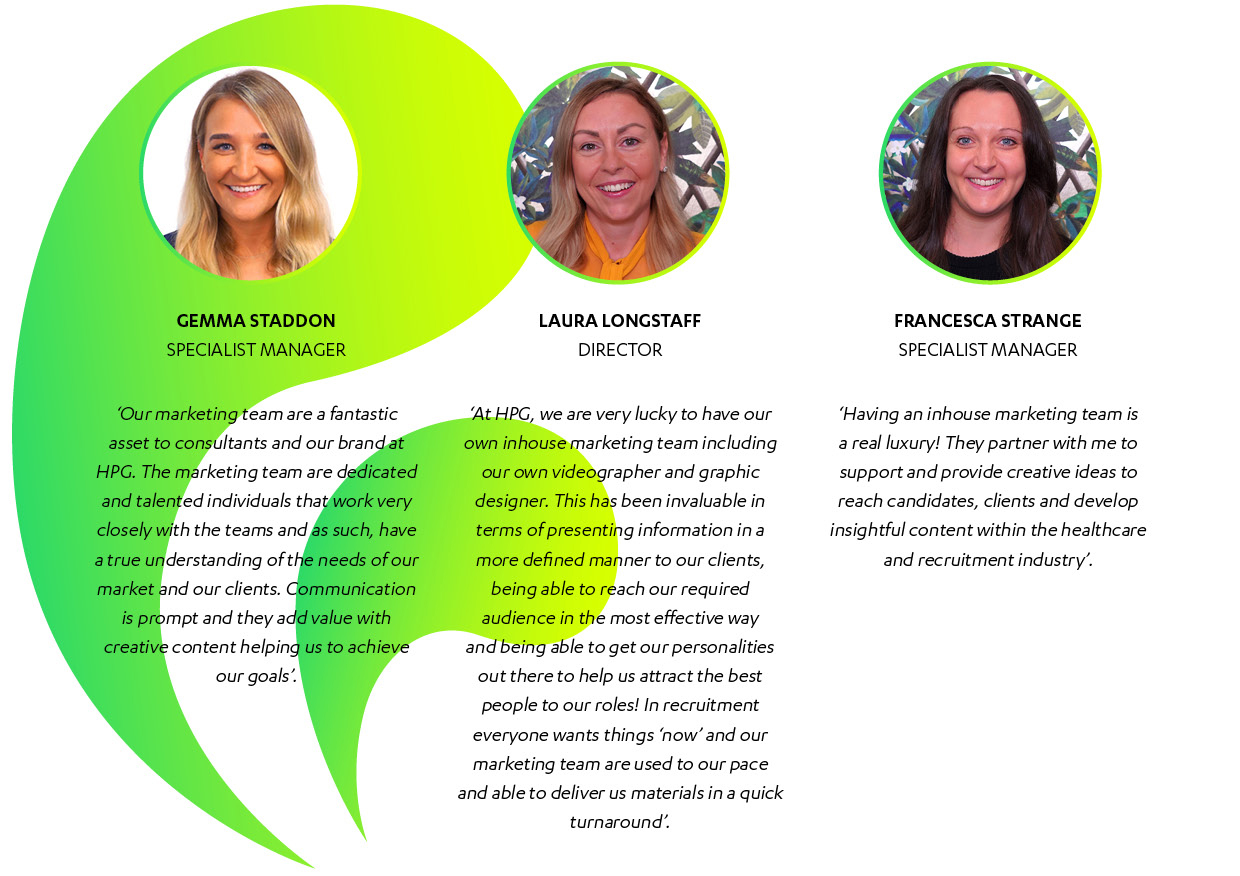 Flexibility is now the new norm.
We will ask you what is important and what you need. We have the culture and the technology to support different ways of working - whether it is from your home or other locations within Australia or in our beautiful city offices (Sydney and Melbourne) that are designed to support collaboration.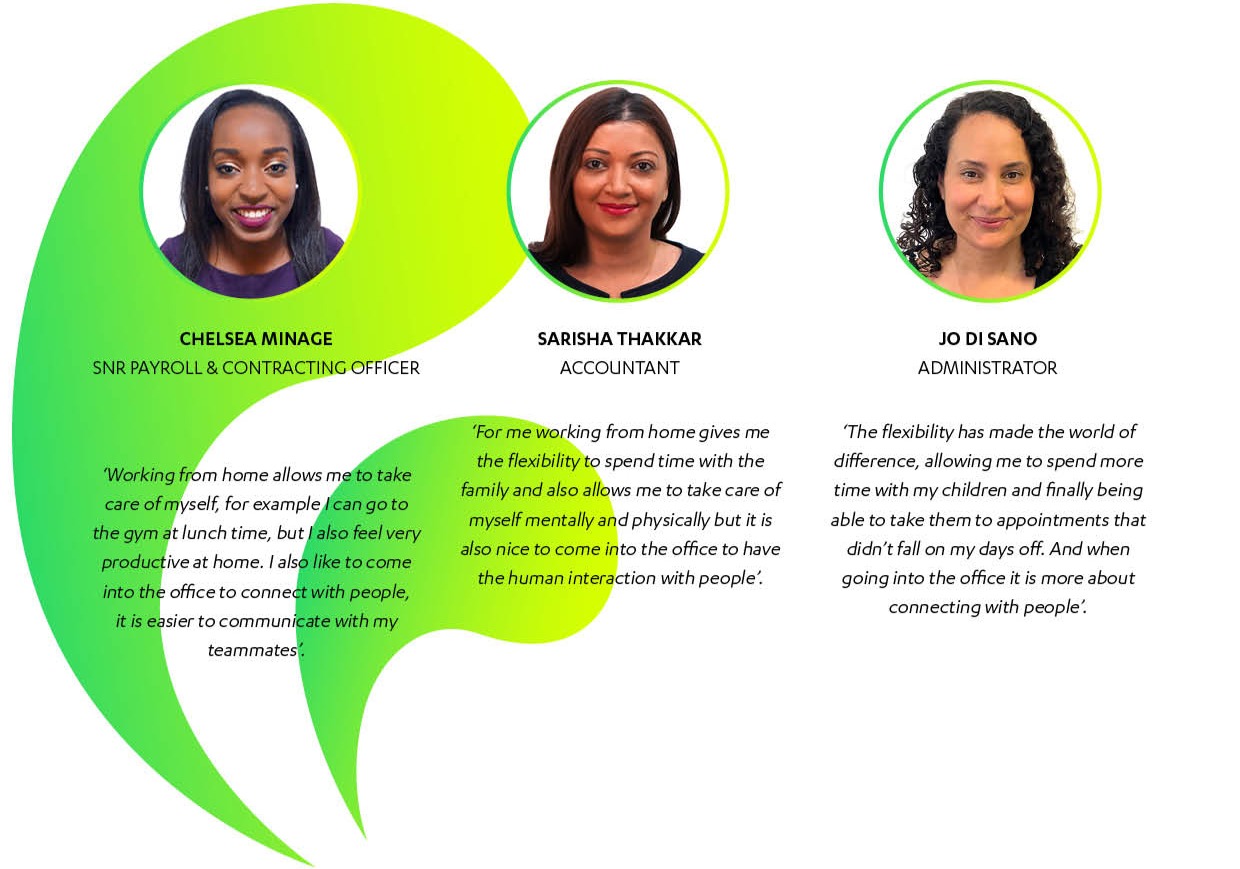 ​​We have an industry-leading commission structure
where you are rewarded from your very first placement, with no thresholds. And there's an accelerated scheme to reward you even more, an extra 1 or 2 days leave a month when you reach targets, and quarterly and annual awards.
​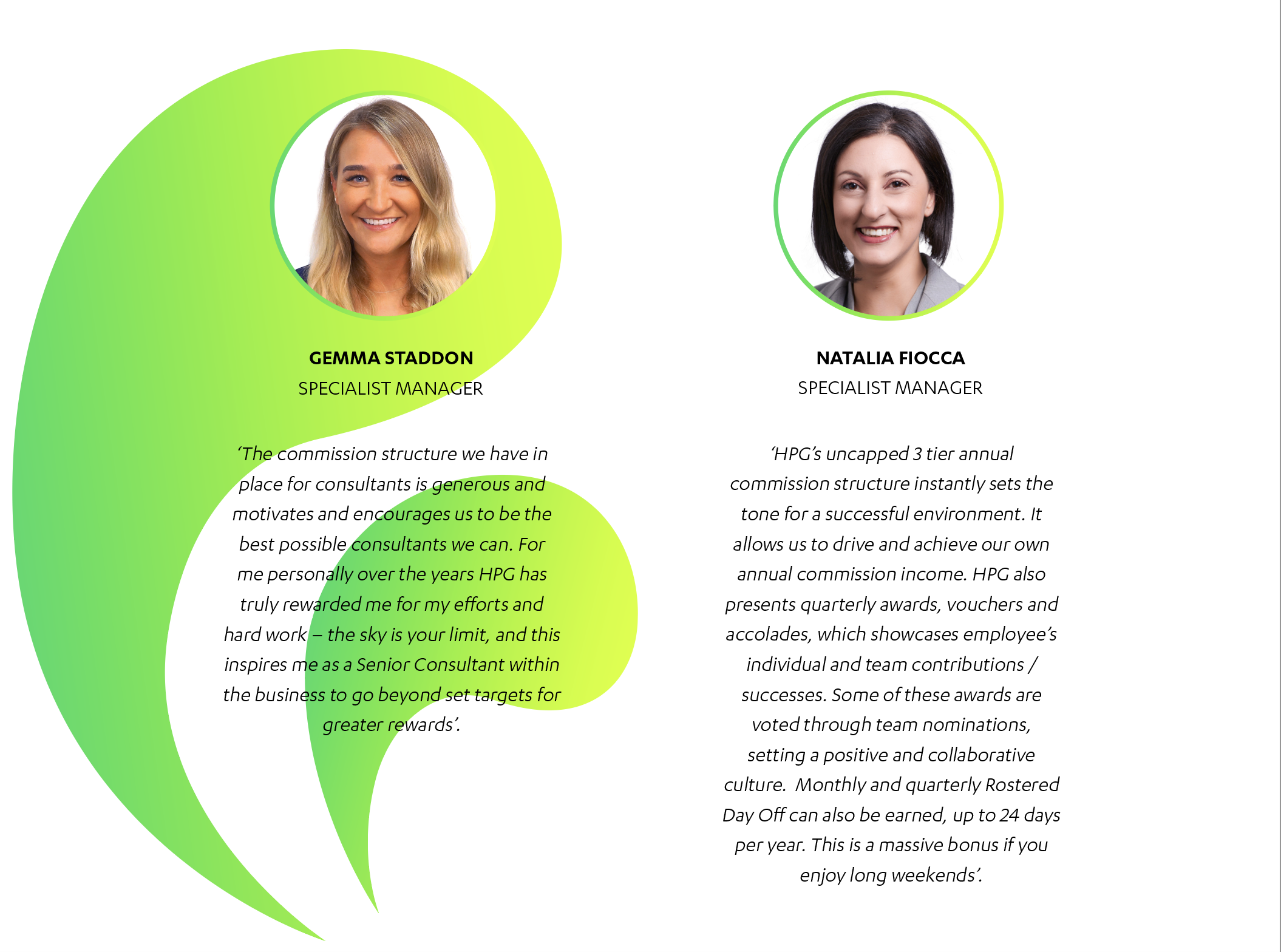 ​To celebrate that special day, you will have a day off that can be taken during your birthday month.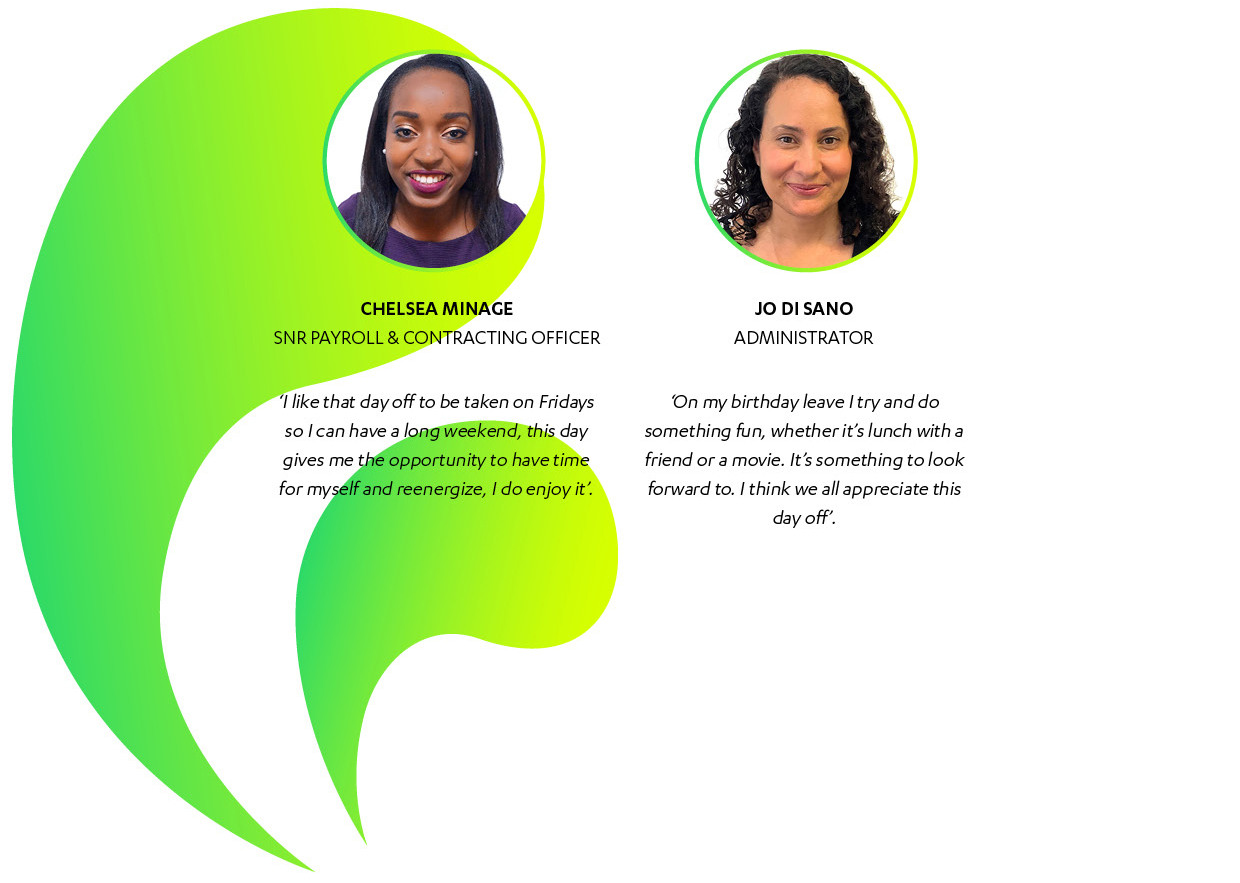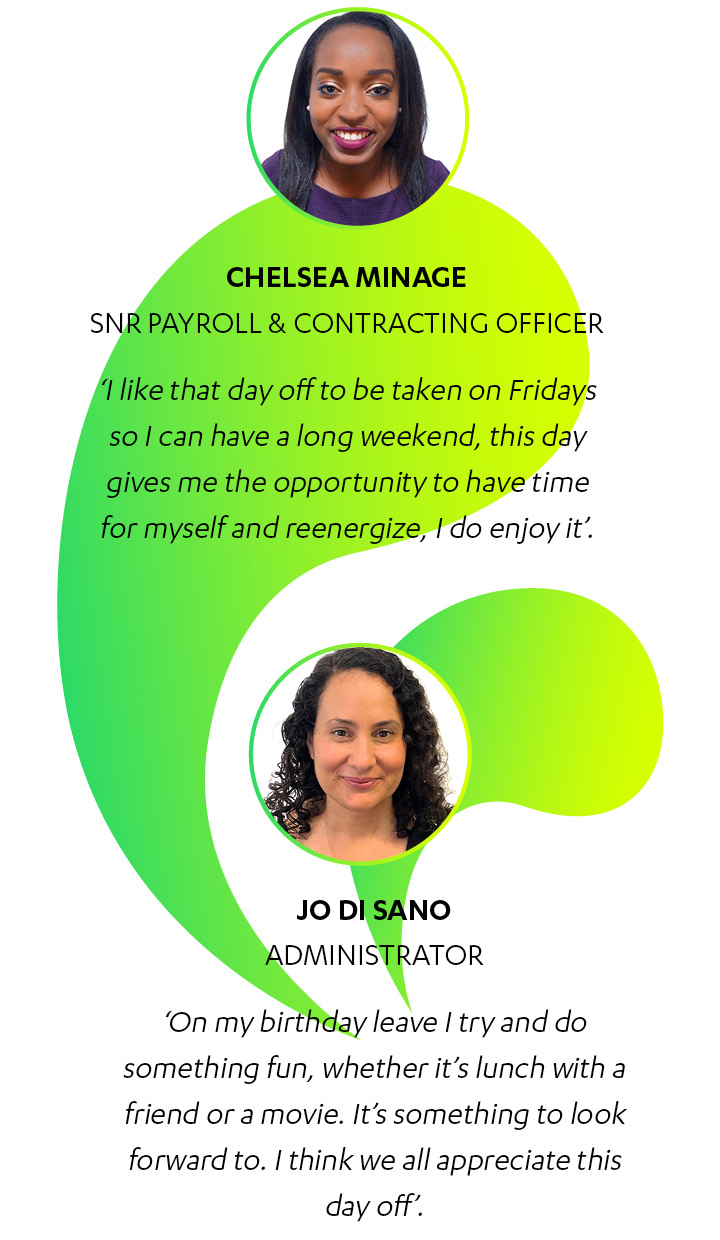 ​You will have access to a team of dedicated professionals who will assist you with all aspects of human resources, administration, IT, contracting documentation, payroll management, issues resolution, client reporting and more.
Our approach is to work collaboratively and proactively to ensure that workflows are efficient and productive. Our culture of continuous improvement means that we value your input as we explore new ideas and new ways of working.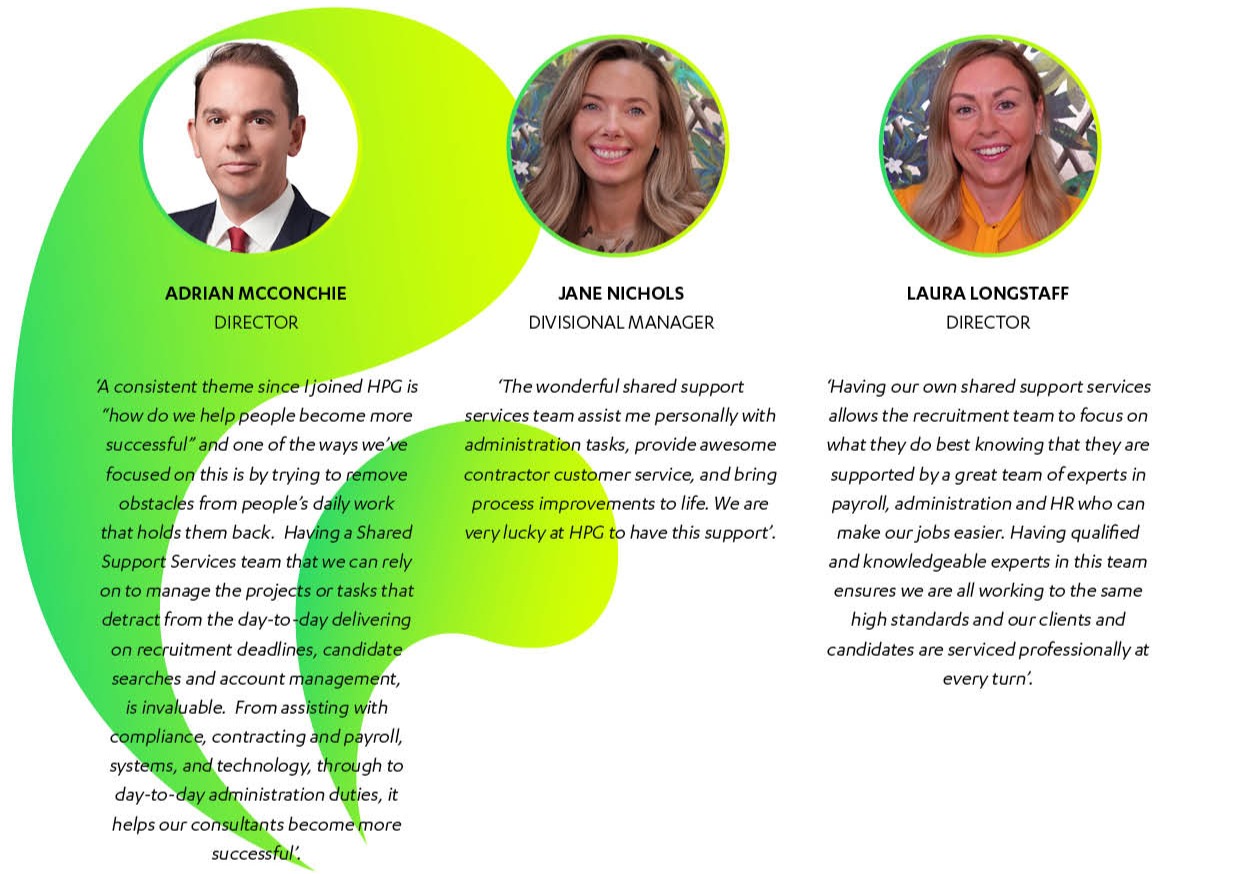 We have a generous and industry-leading Paid Parental Plan
where you receive 8-12 weeks full pay or 16-24 weeks half pay, together with access to a commission stream plan. And when you return to work, we will provide the flexibility you need.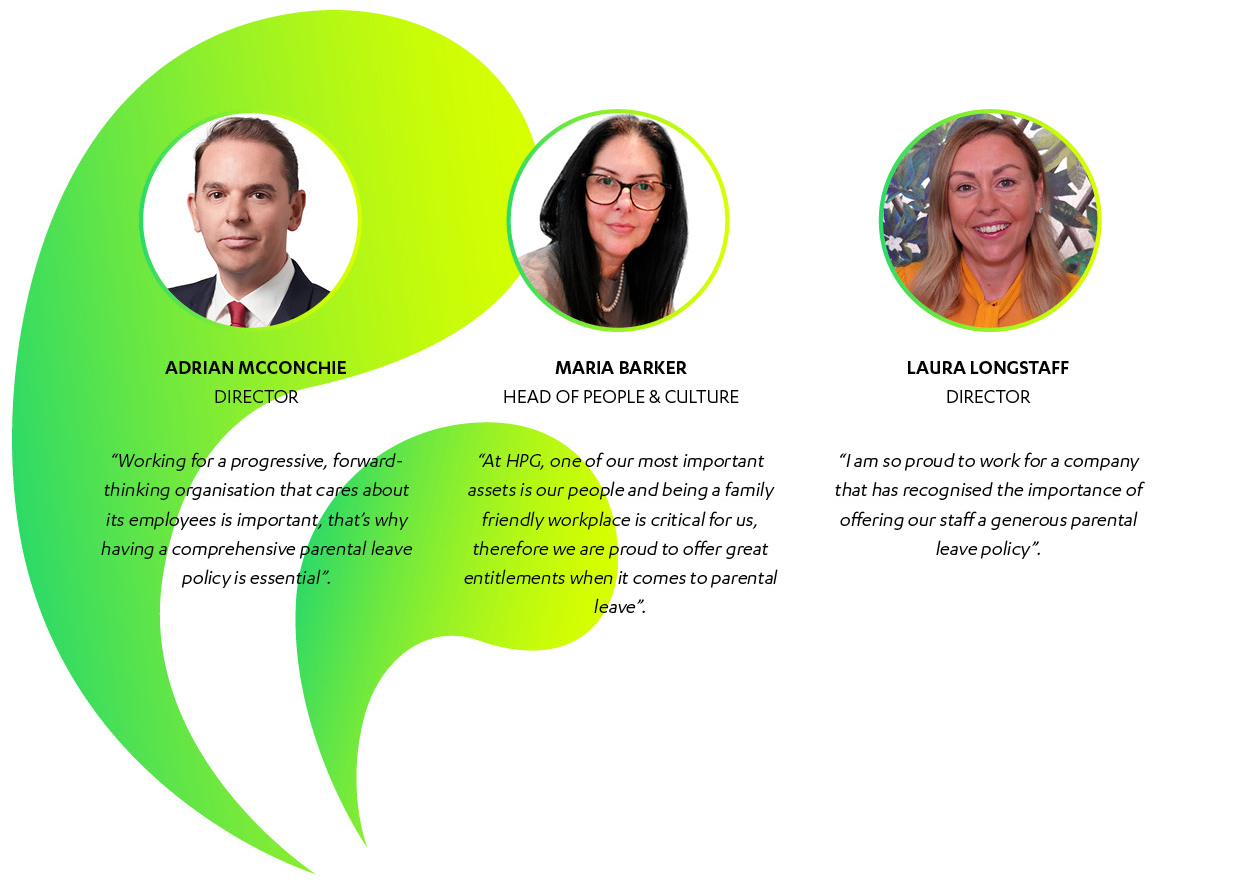 ​